Westchester/Fairfield County, Dutchess and Hartford County

Why hello there summer heat!
The sun is out and while that means more lounging in the shade, dips in the pool, and frozen treats we can't forget that our lawn also needs to cool off during these hot months.
All around we are starting to see lawns browning out and drought stress is becoming more evident.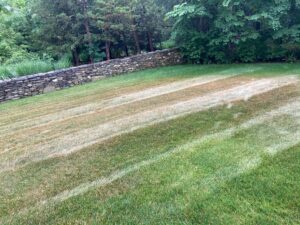 If you have the possibility to water more now is the time to increase the water for your lawn.
If you have water restrictions, please try to water as much as you are allowed as often as you can.
We also do offer a wetting agent application that can help your lawn hold and retain more water so you can achieve greater results out of your water resource.
Feel free to give us a call at (203)847-1241 for more information. 
Proper watering will help drought stress recover in about 2+ weeks.
Click the video link below to learn more about watering your lawn (if you do not have any restrictions) with Christopher Brown.
And remember to stay hydrated!
MOWING
Now that the weather is getting warmer and your seeds are germinating, your lawn is starting to grow! Now the question is, how short should you cut your lawn?
3-3.5″ is the ideal height you want to keep your grass, especially as we get into the summer. Leaving your grass too long may cause it to think out and too short may cause it to burn out during the heat of the season.
So always remember the magic height: 3.5″