Spring Has Sprung: The Ultimate Spring Guide for Your Lawn.
This winter, most lawns were constantly exposed to a freeze and thaw routine on a daily basis. This puts a lot of stress on the root system and can shear off the roots! But now, the long winter months are over! It's time to get things looking good again!
What are we seeing in the Connecticut/New York area? (Updated weekly)
As Kat mentioned in the video above, lawns are drying up! With little to no rain last week and no rain in the perceivable future, everything is abnormally dry for this time of the year.  What does this mean to your lawn? It needs water! So, if you have the ability to water, please do so. If you do not, your lawn may suffer immensely especially newly seeded areas.
Click here to understand why you are not seeing full seed germination with Jay Woodring: https://youtu.be/2G11tlYWcLU
Click here to understand a little more about the speed of grass growth with Christopher Brown: https://youtu.be/2G11tlYWcLU
What happens to lawns during the spring?
GRASS STARTS TO GROW:

As temperatures warm up, your grass will start to grow again. This means it's time to start mowing regularly. Click here to learn more about mowing: https://youtu.be/EqR837mg318

SOIL BECOMES ACTIVE:

Spring is the time when the soil in your lawn becomes more active. Microorganisms and other beneficial organisms begin to break down organic matter, releasing nutrients that your lawn needs to thrive.

WEEDS START TO GROW:

Unfortunately, spring is also the time when weeds being to grow. That's why it is important to address any weeds early in the season before they can become a bigger problem. Click here to understand the weeds on your lawn a little more: https://youtu.be/q4zeSJvBs_o

LAWN DISEASES APPEAR:

Some lawn diseases thrive in the cool, damp weather of spring. Keeping your lawn healthy and well-maintained can help prevent these diseases from taking hold.

PESTS MAY BECOME ACTIVE:

 Keeping your lawn well-watered and healthy can help pests from causing damage.
Spring Aeration
Lawn aeration is the process of removing small plugs of soil from the lawn to improve the health and growth of grass. It helps reduce thatch buildup and breakdown compacted soil.
Between the crown of the grass plant and the soil lies a thatch layer. This is basically the dead and/or dying parts of the plant (not the clippings though.) This layer will progressively get thicker and ticker until it no longer allows nutrients and water through to the root zone. It also makes a perfect home for insects and disease-causing fungi. Core aeration will punch holes through the thatch to allow water and nutrients through. It will also help speed up decomposition of this thatch layer by bringing soil microbes to the surface (in the plugs.)  Click the video to understand a little more about thatch with Christopher Brown: https://youtu.be/ZPvlnLv6Wq8
Soil that is hard and packed together will not allow roots to grow well and will cause the plants to suffer. Foot traffic, lawn mowers, and anything else that presses down on your grass will gradually increase the soil compaction. Core aeration alleviates this problem.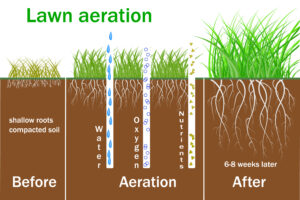 Mowing Tips:
SHARPEN THE MOWER BLADES!
We can't stress enough how important this is. Sharp blades are critical for plant health.

IT'S OKAY TO LEAVE THE CLIPPINGS!
The grass clippings will provide and return vital nutrients to the soil. There's no benefit to taking those away.

LONGER IS BETTER!
Mowing your lawn between 3 and 3 1/2 inches long has proven to be ideal for healthy grass in a home lawn.

Understand the importance of these steps a little further with Christopher Brown by clicking on the link: https://youtu.be/EqR837mg318